CLASSES, CLASSES, CLASSES
BERNINA SOFTWARE 8 CLASSES - taught by Patty
Software II Thursday, February 13th 10 to 1 pm
Software III Thursday, March 19th 10 to 1 pm
BERNINA 790/880 MASTERY CLASSES - taught by Debbie
V Friday, February 7th 10 to 1:30

BERNINA 5 SERIES CLASSES - taught by Patty
III Monday, February 3rd 9:30 to 12:30
IV Monday, March 16th 10 to 1 (for those with embroidery module)


BERNINA 7 SERIES MASTERY CLASSES - taught by Patty
III Saturday, February 1st 10 to 3
IV Saturday, March 14th 10 to 1 (for those with Embroidery Module)
BERNINA 790/880 MASTERY CLASSES - taught by Debbie
I Tuesday, April 7th 10 to 1:30
II Tuesday, April 14th 10 to 1:30
III Tuesday, April 21st 10 to 1:30
IV Tuesday, April 28th 10 to 1:30
V Tuesday, May 5th 10 to 1:30


SPREE OESD SOCIAL CLUB - taught by Debbie
NO SPREE IN FEBRUARY
Tuesday, March 24th 10 to 1
Wednesday, April 29th 10 to 1
OESD SCHOOL OF EMBROIDERY - taught by Debbie
Thursday, February 6th 10 to 2
Saturday, February 8th 10 to 2
Thursday, March 26th 10 to 2
Saturday, March 28th 10 to 2


SOFTWARE 8 EVENT - taught by Sharon
Saturday, February 15, 2020 10 to 2


SEW EXPO IN PUYALLUP - Mark your calendar!
Thursday through Sunday - February 27th to March 1st
Our Mastery Classes are FREE for those who purchased their machine from us.
SOFTWARE CLASSES WILL BEGIN IN JANUARY
Patty will be leading our software classes and she will take you through the learning process from the beginning. Come learn the basics and increase your knowledge each month. Thursday, January 23rd from 10 am until 1 pm. Call the store st 425-255-8673 to sign up.
OESD SCHOOL OF EMBROIDERY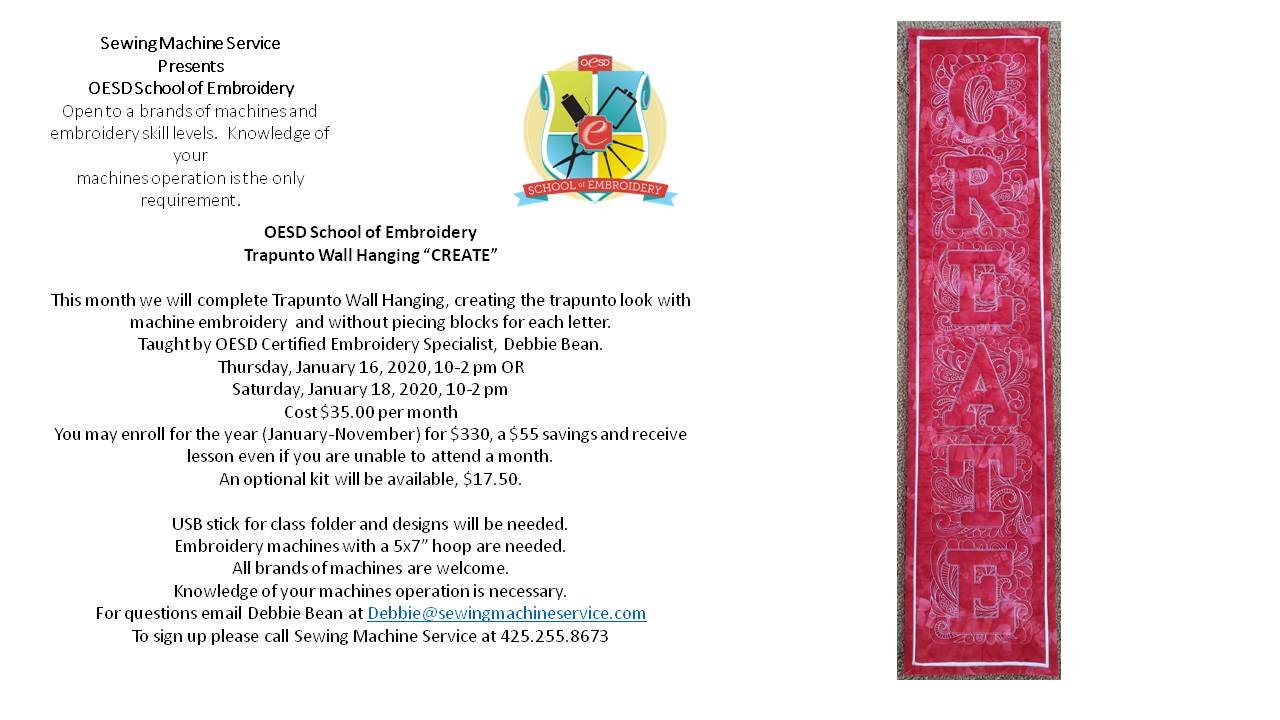 Here are the dates and project for 2020

January 16 or 18 - Trapunto Wall Hanging

February 6 or 8 - Monogrammed Beach Towel Tote

March 26 or 28 - Pieced Pouch

April 16 or 18 - Baltimore Pillow

May 14 or 16 - Monogrammed Hanger

June 25 or 27 - Applique Greeting Card

July 23 or 25 - Sweetheart Tea Light Holder

August 13 or 15 - Create a Patch

September 17 or 19 - Stitch N Turn Quilt Label

October 15 or 17 - Quilting 2.0

November 12 or 14 - In the Hoop Goody Bag Topper