CLASSES, CLASSES, CLASSES
BERNINA

SOFTWARE

8 CLASSES
ALL SOFTWARE CLASSES ARE ON HOLD

BERNINA 790/880 CLASSES - taught by Debbie
I Tuesday, October 8th 10 to 1:30
II Tuesday, October 15th 10 to 1:30
III Tuesday, October 22nd 10 to 1:30
IV Tuesday, October 29th 10 to 1:30
V Tuesday, November 5th 10 to 1:30


OESD SCHOOL OF EMBROIDERY - taught by Debbie
Saturday, October 12th 10 to 2
Wednesday, October 23rd 10 to 2
Saturday, November 16th 10 to 2
Wednesday, November 20th 10 to 2


FABRIC WRAPPED BOWL CLASS - taught by Sandy
Thursday, October 17th 10 to 1

SPREE OESD SOCIAL CLUB - taught by Debbie
Monday, November 12th 10 to 1


LIGHTED CHRISTMAS STOCKING CLASS - taught by Annette
Wednesday, October 30th 10 to 4


TAKE A STAND AND RUNNING WITH SCISSORS CLASS - taught by Annette
Wednesday, November 6th 9:30 to 3
Wednesday, November 13th 9:30 to 3
Wednesday, December 4th 9:30 to 3
Our Mastery Classes are FREE for those who purchased their machine from us.
If you missed out on Patty's ruler class, she will be offering another class for you. Be sure to sign up! Thursday, October 10th from 10 am until 1 pm. Cost will be $25. Call us at 425-255-8673 to sign up.
OESD SCHOOL OF EMBROIDERY
Here is our upcoming schedule
October 12 and 23 - Mastering T-Shirts
November 16 and 20 - Cutwork Embroidery
December 14 - Freestanding Lace Saturday Edition
Take a Stand and Running With Scissors Class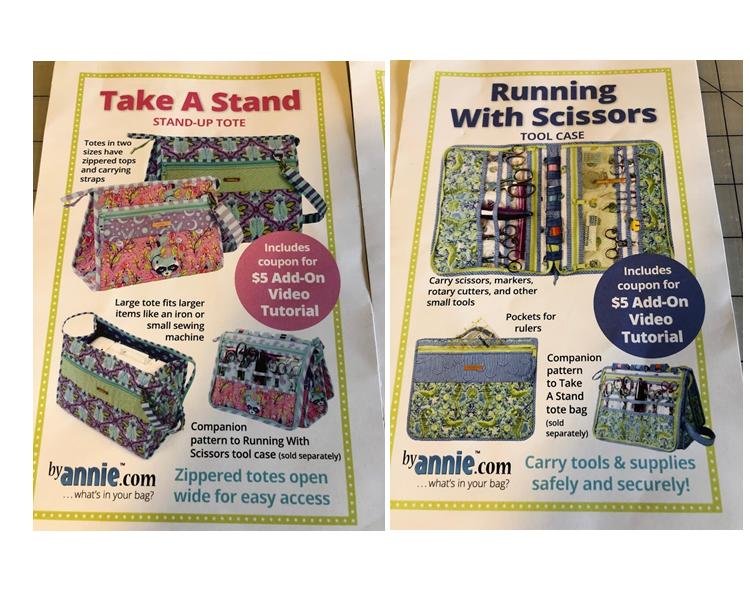 Take a Stand and Running with Scissors Class -
taught by Annette
Wednesday, November 6th 9:30 to 3
Wednesday, November 13th 9:30 to 3
Wednesday, December 4th 9:30 to 3
These two bags are being taught as a companion project. The TAKE A STAND is a stand up tote that will hold your project supplies, fabric etc. or a small sewing machine, if you make the large size. The RUNNING WITH SCISSORS tool case will fold over the top of the stand-up tote and will hold notions, such as scissors, rotary cutters, small rulers, markers, etc. Great for retreats or classes. Patterns available for purchase in our store. Class discount is 15%.
CLASS DATES: Wednesdays, Nov. 6th and 13th , and Dec. 4th .
TIME: 9:30 am – 3:00 pm with time for a lunch.
SUPPLIES: You will need the supplies as listed on the back of each pattern. In addition you will find a walking foot/dual feed very helpful, along with the little fabric clips, and a zipper foot. You will also need general sewing notions, whatever your
BEFORE COMING TO CLASS
:
Please have all of your pieces cut, quilted, and labeled. This is a big project and organization is key. There will also very likely be homework, depending on how fast the class moves and your skill level. This would not be a good class for beginners. Intermediates are fine.
CALL THE STORE TO SIGN UP 425-255-8673
Come and let Sandy teach you how to make these fun wrapped bowls. Once you have made one, your creative juices will be flowing and you will definitely want to make more. They make great gifts! Cost of the class is $25 and you provide your own materials. Class will be held on Thursday, October 17th from 10 to 1 pm. Supply list will be available upon signing up. Call us at 425-255-8673 to sign up.